Plyskiv
Before the war, the Jewish community of Plyskiv consisted of about 790 people. Only a few of them survived the Holocaust. Between 1941 and 1943, the main shooting site for the Jews from Plyskiv and the surrounding area was the former livestock cemetery outside the village. During the biggest operation in October 1941, over 500 Jews were shot here in one day. An obelisk dating from 1976 does not mention the Jewish origin of the victims.
Additional mass shootings took place in the garden of the former NKVD (Soviet secret police) building. The victims were hastily buried in several mass graves. At the initiative of a local businessman, part of this garden was protected by a concrete fence, but it was not recognisable as a memorial site. An archaeological survey confirmed the existence of a mass grave here.
In 2019, memorial sites were constructed at both former sites of the mass murder of Jews. They were inaugurated that September.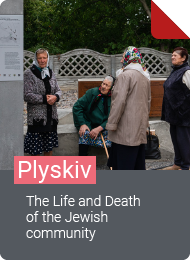 Plyskiv. The Life and Death of the Jewish community (essay)